ADD CHARTS IN THE APP:
Seamless quilted charts automatically move from one to the next. Free updates; you do not need to re-purchase the same chart next year.
New Zealand $17.99: Official LINZ charts including areas of Antarctica and the South-West Pacific.
US NOAA chart regions $15.99: Atlantic coast (incl. Bahamas & Cuba), Pacific coast, Gulf coast, Great Lakes, Alaska, USVI & Puerto Rico.
Canadian chart regions $21.99: Atlantic coast, Great Lakes - Manitoba - Arctic, Quebec, and Pacific coast.
UK charts £16.99: All of the official charts for England, Scotland & Ireland.
Free: Aerial photos and land maps of the entire world.


1-minute demo:
How to see your optimal tacks
and Tacking Time to Destination.


Vers. 5.6.6 update: There is no narration, but this 30-sec. video shows how to open the Wind and Bearing panels, and the tacking route appear when you start to move.


How to use the
Sailtimer app with the
SailTimer Wind Vane™.


SailTimer: Optimal Tacks and TTD®
Sailboats often tack to their destination, which affects the distance and travel time. The SailTimer™ tacking calculations were developed beginning in 2005 because GPS chartplotters didn't know how far your tacking route would be. But if they didn't know that distance, how could they calculate the ETA correctly? The SailTimer tacking results solved this problem, and set a new standard.
The SailTimer app provides an instant display of your optimal tacking route, distance and Tacking Time to Destination (TTD ®). It can also learn polar plots for your individual sailboat's performance in all wind speeds and directions, to provide more precise tacking results. A live overlay is also now available in the app of crowdsourced wind & race maps.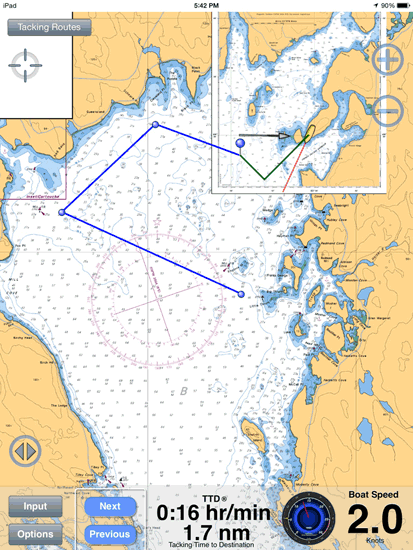 Update tacking results automatically as the wind changes, with our solar-powered, wireless anemometer.
SailTimerWind.com

Waterproof hardcases for your tablet or smartphone: Lifeproof, Griffin, Lifejacket, and LifeEdge. Hardcases with mounts: Hitcase, Dog and Bone.



Cockpit mount such as MagConnect with waterproof hardcase, Lifejacket mounting bracket, universal waterproof case mount, or others from Vogel's or RAM.

If your iPad does not have GPS, Bluetooth GPS receivers are available from Dual, Bad Elf and GNS.
Copyright 2005-2017 (c) SailTimer Inc.